Automated Reporting¶
Purpose¶
Each time you playback a test, Rapise automatically generates a report detailing the steps of the test, the data values used, and the outcome of each step.
Usage¶
Execute your test using the instructions here.  When the test is complete a report file (ending in .trp) will open in the Content View.  It will look like this: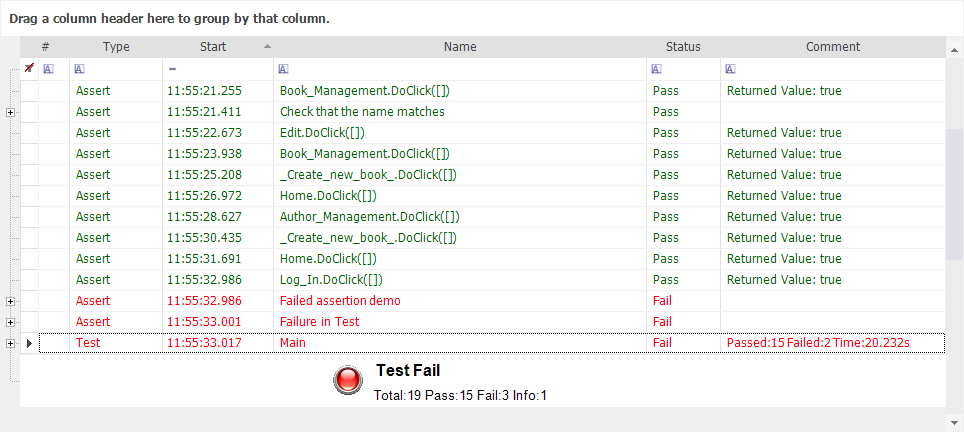 The first row (with a white background) is used for Report Filtering.  The rows below that each represent a step in the test.  The rows with green text represent success; the rows with red text represent failure. You can reposition the columns by dragging and dropping the column names.
The Columns¶
#: For displaying icons.
Name: The test name.
Start: The time the test step began executing.
Type: Can be one of the following values: Test; Assert; Message.
Comment: Assertions and messages have associated comments. They are displayed here.
Status: Whether the step passed, failed, or was merely informational.
Drag a column header here...

Use to order by the values in the chosen column.  The result of dragging the Status column over looks like this:

You can expand each item to see the corresponding report rows:

Drag the Status icon back to undo the sort:

TODO Rows¶
Whenever Name starts with TODO the viewer automatically does the following:
If report row Type is Info then it is highlighted in Yellow and TODO counter is incremented:

If report row Type is Assert then it stays green or red, but TODO counter is still incremented.
If you hover over last execution status in Rapise main window, the tooltip would contain then total number of TODO items found in the report (i.e. TODO counter):

See Also¶
The report output file is specified in the Settings Dialog (Settings > ReportPath).